Osama bin Laden killing may shape future of US cooperation with Pakistan
President Obama's strategy of ordering independent action within Pakistan, despite severe Pakistani objections, may well be bolstered after US forces acted to kill Osama bin Laden on Sunday.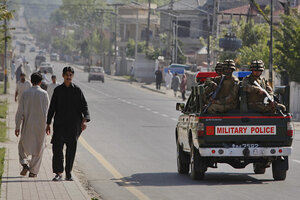 Faisal Mahmood/Reuters
US forces killed Osama bin Laden in a shootout at a mansion north of Pakistan's capital Sunday night, culminating an aggressive use of American intelligence assets inside the country.
President Obama, in an address Sunday night, said he gave the go-ahead for the operation last week after months of intelligence work. On Sunday, a US team attacked Mr. bin Laden's compound in Abbottabad, killed him, and took the body.
Mr. Obama made no mention of a "joint operation" with Pakistan, indicating that the US intelligence community possibly kept its cards very close and its putative Pakistani allies in the dark.
While Pakistani intelligence has worked with the US over the years, the Obama administration has strained relations by increasingly ordering independent action within Pakistan. As more information comes out, that strategy may well be vindicated and will certainly shape Pakistani reaction to the events.
---