After Osama bin Laden's death, Congress rethinks aid to Pakistan
The killing of Osama bin Laden could have a profound effect on three big issues in American policy: aid to Pakistan, the usefulness of harsh interrogation techniques, and the Afghanistan war.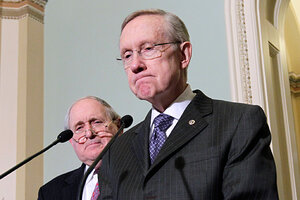 J. Scott Applewhite/AP
In a rare standing vote, US senators voted unanimously on Tuesday to honor the members of the military and intelligence community who killed Osama bin Laden.
It's a procedure reserved for solemn moments, such as the vote for emergency funding after the 9/11 attacks on the World Trade Center and the Pentagon, which was also unanimous.
Success in the hunt for Mr. bin Laden, which eluded both Presidents Clinton and Bush, gives President Obama new credibility at home and abroad in his leadership on national security. But the fallout from this operation also has reopened three crucial topics for debate, all of which produce anything but unanimity on Capitol Hill: relations with Pakistan, the value of interrogation techniques critics call torture in the hunt for bin Laden, and the ongoing role of US forces in Afghanistan.
"It clearly has a ripple effect in the region, but in ways that may create a whole series of new challenges for Obama," says Norman Ornstein, resident scholar at the American Enterprise Institute in Washington.
Aid to Pakistan
---