Fukushima prepares for cold shutdown: Will it finally stabilize Unit 1?
At Fukushima Daiichi in Japan, nuclear reactor Unit 1 is being prepared for 'cold shutdown,' which requires flooding the reactor's containment structure with cold water to stop steam production.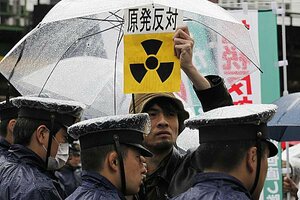 Kim Kyung-Hoon / Reuters / File
Tokyo Electric Power Company says it is moving ahead with plans to bring the Unit 1 reactor at the Fukushima Daiichi plant to "cold shutdown" within the week, Japan Times reported today.
If that happened, it would be a major shift from the nuclear plant's current status, which the International Atomic Energy Agency still lists as "very serious." Cold shutdown means bringing the temperature inside the reactor down below the boiling point of water, so no steam pressure is being produced – a significant step if it happens, US experts said.
Before the temperature can be reduced, the building must be vented of radioactive air to allow operators to approach the reactor. In addition, American and British scientists have expressed concerns about the proposed step and newly discovered evidence of an ongoing radiation leak into the Pacific Ocean.
Bringing Unit 1 to cold shutdown
But important questions remain about how safe the cold shutdown process will be. To bring down the temperature in Unit 1, the company plans to inject water into the primary containment structure – a large, light-bulb-shaped container that surrounds the inner reactor vessel that holds the uranium fuel core.
Will the primary containment structure be able to hold the many tons of water that will fill it – or will it leak or split because it is damaged? Will a new quake or aftershock damage a containment structure that is far heavier because it is full of water?
---