Why Yemen claims role in US drone strike on cleric Anwar al-Awlaki
President Saleh's government, besieged by protests and clinging to power, is hoping to prove its usefulness as the US pursues radical cleric Anwar al-Awlaki and other terror suspects in Yemen.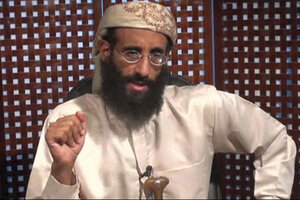 AP
This week's US attempt to kill a radical Islamic cleric in Yemen, via a drone attack, indicates that the Obama administration is capitalizing on political unrest there to extract intelligence about the terrorist group Al Qaeda on the Arabian Peninsula.
The drone strikes on Thursday, aimed at American-born Anwar al-Awlaki, missed their intended target but killed two brothers affiliated with the Islamist terrorist group, after Mr. Awlaki and a traveling companion switched vehicles with them. The US has been targeting Awlaki since the 2009 "Christmas Day underwear bomber" plot, one of the attempted attacks on the US in which officials say he had a role.
Unlike the attack in Pakistan earlier in the week that killed Al Qaeda leader Osama bin Laden, the US strikes in Yemen were conducted with the full knowledge and cooperation of the government of President Ali Abdullah Saleh. Indeed, the Yemeni government is asserting that it provided the US with key intelligence about Awlaki.
---