Memphis largely spared as Mississippi River floodwaters near historic high
Gawkers gathered beside the Mississippi River to see floodwaters near 48 feet. Most of the flood damage was in low-lying areas outside downtown Memphis.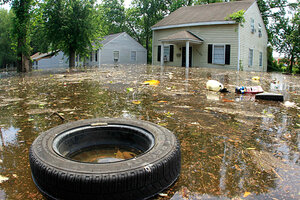 Mark Humphrey/AP
For one day at least, the allure of Elvis Presley, blues music, and juicy barbecue are temporarily playing second fiddle to Mississippi River floodwaters that crested at nearly 48 feet Tuesday – the city's highest level in 74 years.
The fact that streams of tourists and locals lined the city's riverfront, either snapping photos or just gazing outward in silence, speaks to both the once-in-a-lifetime nature of the current floods and to Memphis's good fortune.
Elsewhere, in lower-lying parts of Shelby County, submerged homes were noticeable only by their rooftop satellite dishes, and the residents of more than 1,300 homes were ordered to evacuate – with nearly 500 people taking shelter in five local churches.
And greater concern is mounting farther south, where floodwaters could rise higher, threatening communities in the Mississippi Delta.
On Tuesday, however, Memphis's riverside bluff offered gawkers a safe view of something they never thought they would see.
"It's history," says Regina Cavanaugh of nearby Collierville, who grew up in Memphis.
She, like most prowling the banks of Jefferson Davis Park, was armed with a camera, taking photos she was eager to share with others online. "I've seen high water before … but nothing compared to this."
---