Mississippi flooding: In impoverished Delta, echoes of 1927 disaster
Mississippi flooding concerns are now shifting to the Delta region south of Memphis, Tenn. Residents are using tractors and building makeshift levees to avoid a repeat of the 1927 floods.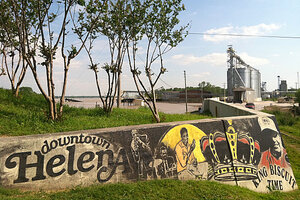 Mark Guarino / The Christian Science Monitor
While Mississippi River waters have started to recede in Memphis, the threat is rising with the water level along the lower Delta.
For decades, Delta communities have relied on – and been punished by – the river. Last week, every riverfront Delta town surpassed its established flood stage, and the water is still rising.
On Wednesday, Mississippi Gov. Haley Barbour urged people in low-lying areas to evacuate. "More than anything else: Save your life, and don't put at risk others who might have to come in and save your lives."
Mississippi's emergency management agency reports that 600 homes are already flooded, and the floodwaters will displace over 5,000 people before they recede next month.
'You can't control the river'
The unpredictable nature of the Mississippi River is its most predictable trait, says John Barry, author of "Rising Tide," the definitive history of the 1927 flood.
"The lesson learned [from 1927] is: You can't control the river. All you can do is contain it. Therefore you have floodways, levees, spillways, reservoirs, pretty much everything," Mr. Barry says. But even with such formidable protections in place, "It's inevitable – we're going to get great floods."
Waters swamping the Delta, a 200-mile stretch between Memphis, Tenn., and Vicksburg, Miss., will devastate an already-struggling area. Nine of the 11 counties along the river have poverty rates about double the national average of 13.5 percent, according to the US Census Bureau.
A tour of the communities along the Delta, ranging from Alligator, Miss., (population 195) to Greenville (population 35,000), reveals sandbags and closed levee gates, but the mood is more of quiet tension than visible panic.
---