Netanyahu and Obama meet: harmonious picture, blunt disagreement
A day after Obama's Middle East policy address, Netanyahu tells the president that Israel 'cannot go back to the 1967 lines.' In their 'prolonged' conversation, the leaders sought points of agreement.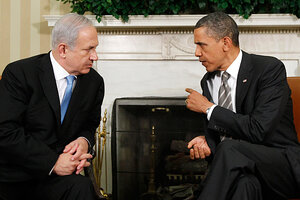 Charles Dharapak/AP
President Obama and Israeli Prime Minister Benjamin Netanyahu sought Friday to smooth over the tensions that burst open a day earlier as a result of new ground Mr. Obama staked out for Israeli-Palestinian peace.
Despite the harmonious picture the two leaders offered in a joint media appearance at the White House, neither side claimed that deep differences were surmounted in what Obama called a "prolonged and extremely useful conversation."
Mr. Netanyahu quickly rejected the US president's endorsement – made during his Middle East speech at the State Department on Thursday – of starting with Israel's pre-1967 borders as the basis for negotiating final territory lines with the Palestinians.
Israel "cannot go back to the 1967 lines," the Israeli leader said. "Those lines are indefensible."
US administrations and other international powers have referred for decades to the 1967 lines as the starting point for negotiations on final borders, but Obama was the first American president to make the idea of the '67 borders as a basis for negotiations an official US policy.
Behind the scenes, Israeli officials expressed anger that Obama has now set as a starting point for territory negotiations a position the Israelis had hoped to use as a bargaining chip with the Palestinians. On the White House side, US officials are frustrated that Obama's proposal for getting to permanent-status talks by starting with territory and security – widely viewed as the more tractable of the issues separating the two sides – is being characterized in some quarters as a significant leap beyond established US policy.
---
Follow Stories Like This
Get the Monitor stories you care about delivered to your inbox.