Israel's 1967 borders: Three reasons Obama's stance is a very big deal
In the subtle world of the Israeli-Palestinian peace talks, Obama's step – describing the 1967 borders as something more than a 'Palestinian goal' – could signal a significant policy shift.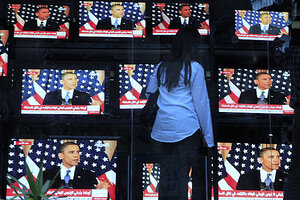 Amr Nabil / AP
On Thursday, President Obama said that a Middle East peace agreement should largely be based on the borders that prevailed in the region prior to the 1967 Six-Day War. Furor ensued.
What's the problem with him saying that? That's an approach that many experts on the region talk about. It's been an implicit basis for past Israeli-Palestinian negotiations. Yet if you'd listen to Israeli leaders and their strongest US supporters, you'd think Obama had just said Hamas was a bunch of great guys.
Obama "threw Israel under the bus," said GOP presidential contender Mitt Romney, for instance.
Well, the Israeli-Palestinian peace talks are nothing if not complicated and subtle. And in that context, what Obama said could well be seen as a very big deal.
---