Oklahoma, Alabama, Joplin: Why we're seeing so many tornadoes and superstorms
The superfunnels that hit Tuscaloosa, Ala., in late April and Joplin, Mo., on Sunday, are generated by storm systems whose journeys across the country are slowed by a roadblocked jet stream.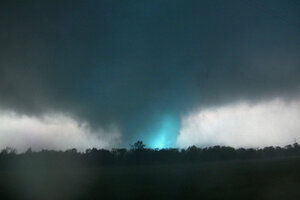 tornadovideo.net / AP
Rescue crews continue to comb through the storm-swept streets of Joplin, Mo., following Sunday night's powerful tornado, which cut a swath of destruction through the center of the city more than six miles long and nearly a mile wide.
At least 116 people have died, according to emergency managers – the highest number of fatalities from a single tornado in over 60 years. At least 17 survivors have been pulled from the rubble the twister left in its wake.
The last twister with a similar toll appeared during a 1953 tornado outbreak in the Eastern US. Some 116 people were killed when a tornado struck Flint, Mich. The same outbreak sent a mile-wide tornado through Worcester County in central Massachusetts – a part of the country where tornadoes of that scale are rare – resulting in the deaths of 94 people.
On Monday, National Weather Service forecasters said the Joplin tornado packed winds of between 192 and 198 miles per hour, based on a preliminary survey of the damage. After more survey work the next day, they raised the estimated wind speeds to more than 200 m.p.h. on Tuesday evening, giving the tornado a rating of EF5 – the most-destructive designation, said Bill Davis, meteorologist in charge of the National Weather Service (NWS) forecast office in Springfield, Mo., who headed the survey team.
---