Nutritional coup: 'My Plate' replaces USDA food pyramid
The USDA and Michelle Obama team up to launch a new nutritional diagram. Obama says 'My Plate' should help Americans visualize what they need to eat better than the food pyramid did.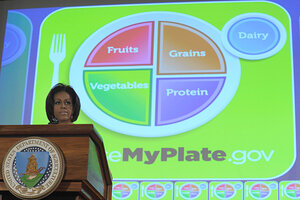 Susan Walsh/AP
Goodbye food pyramid, and hello "My Plate."
The US Department of Agriculture, with an assist from first lady Michelle Obama, launched a new visual guide designed to help Americans have balanced diets in an era of high concern about obesity among adults and children.
As familiar as the food pyramid has been to generations of Americans, the USDA and the US surgeon general decided that a chart shaped like a dinner plate would better serve as a dietary guide.
"The new icon is simple and easy to understand, with more emphasis placed on fruits and vegetables," Surgeon General Regina Benjamin said in a statement released Thursday. "This new tool can be a fun way to help individuals and families make healthier meal choices."
The plate-shaped diagram, essentially in the form of a pie chart, may give Americans an easier way to envision a mix of food groups on plates or in bowls.
"As a mom, I can already tell how much this is going to help parents across the country," said Mrs. Obama in helping to launch the chart. "When mom or dad comes home from a long day of work, we're already asked to be a chef, a referee, a cleaning crew. So it's tough to be a nutritionist, too. But we do have time to take a look at our kids' plates."
---