If Senate repeals ethanol subsidies, what happens at the gas pump?
The Senate vote on repealing tax subsidies for ethanol producers has big political ramifications, but the impact on the industry could be minimal. A continuing federal mandate that requires refiners to blend ethanol into gasoline provides adequate support for producers, experts say.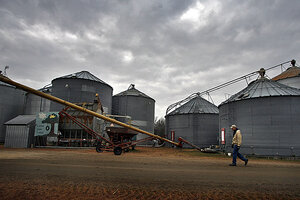 Jim Gehrz/The Star Tribune/AP/File
An amendment to repeal $6 billion in annual tax incentives for corn ethanol producers carries enormous political consequences, with many observers seeing it as a litmus test for whether Republicans will repeal some federal tax breaks to trim deficits.
For ethanol producers themselves, however, the amendment might have little real-world impact.
If Congress were to eliminate those subsidies – as the Senate amendment set to be voted on Tuesday would do – ethanol production is unlikely to suffer significantly, if at all, says James Bushnell, an energy economist at Iowa State University. Ethanol producers will continue enjoy strong pricing as long as gasoline prices remain high, and corn prices are unlikely to take a hit, he says.
"For ethanol producers and corn growers, it's not at all clear that this is a major setback – or any kind of setback," Dr. Bushnell says. "Many people don't remember that we have a federal mandate to use ethanol in gasoline, so that really forces a market demand for ethanol regardless of whether the tax credit is there or not."
The federal mandate requires refiners to blend 36 billion gallons of renewable fuel into gasoline by 2022 – with no more than 15 billion gallons of that total being conventional corn-based ethanol. (The rest must come from advanced biofuel feedstocks like switchgrass that produce far less greenhouse emissions.)
Additionally, two other federal measures also help ethanol producers. First, refiners are paid an excise tax credit of 45 cents for every gallon of ethanol they blend into gasoline. Second, a 54-cents-per-gallon tariff is tacked onto any imported ethanol. These are the tax breaks the Senate could vote to withdraw.
"If you kill [the excise tax break] you are not suddenly pulling the rug out from under the industry's operations," writes Doug Koplow, president of Earth Track, a Boston-based energy subsidy consulting firm in a recent blog. "Far from it. You are merely switching the form of subsidy from taxpayer-financed tax credits to consumer-financed above-market prices at the pump."
---