Bill to chop Big Oil's tax breaks falls short – but makes its point
Senate Republicans halt a bill that would take away multibillion-dollar tax breaks for oil companies. Wednesday, Democrats are expected stop a bill that would force Obama's hand on Gulf drilling permits. 'It's summertime symbolic politics' in Washington.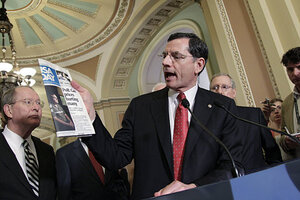 J. Scott Applewhite/AP
In dueling, back-to-back votes, the Senate this week is taking up two oil bills, both expected to fall short on votes but score big in getting out a partisan message for 2012 campaigns.
Senate Democrats voted on Tuesday to strip the top five oil companies of tax breaks worth some $21 billion over 10 years, with the savings to go to paying down the deficit. Republicans will respond on Wednesday with a bill to boost oil production by extending leases affected by President Obama's drilling moratorium after the Gulf oil spill.
While the Tuesday bill fell short of the 60 votes it needed to proceed, it was intended to send a message: Republicans would rather help Big Oil than cut deficits or meet the needs of struggling Americans.
"This evening's vote is about values," said Senate majority leader Harry Reid (D) of Nevada after a caucus luncheon on Tuesday. "[Republicans] can continue to defend the oil companies or recognize that we have to do something about the deficit."
In the 52-to-48 Senate vote, Democratic Sens. Mark Begich of Alaska, Mary Landrieu of Louisiana, and Ben Nelson of Nebraska broke ranks to vote with Republicans to oppose the measure.
Republicans charged that the measure amounted to a tax increase that would raise the price of gasoline, export American jobs, and increase dependence on foreign oil. "Democrats want to find less [oil] or tax more," said Sen. Lamar Alexander (R) of Tennessee.
---