TSA defends searches of children, elderly, amid fresh complaints
After an elderly traveler complained of experiencing indignities at the hands of the TSA, the question arises: When do invasive searches become too invasive?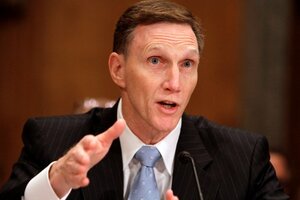 Jacquelyn Martin / AP
The Transportation Security Administration (TSA) is the object of a new round of Internet outcry, this time because of the search of 95-year-old Lena Reppert. A complaint filed after the incident claimed that the TSA insisted she remove her adult diaper. A similar protest followed the pat-down of a 6-year-old girl, which was caught on video and rapidly distributed via Internet.
TSA officials responded to both complaints the same way. "We have reviewed the circumstances involving this screening and determined that our officers acted professionally and according to proper procedure," they said.
That "procedure" is the source of the problem, say critics. Since unveiling the new scanners and pat-downs in November, the TSA has made a few revisions to their policies affecting children under 12. They receive a "modified" version of the pat-down, and, as of last week, will be patted down less frequently.
"The search is the very definition of 'security theater' – it looks like the agency is doing something, but it accomplishes nothing," wrote Fred Cate, distinguished professor at the Indiana University Maurer School of Law, in an open letter to Congress written shortly after the new pat-down and screening policies were announced last year.
Who gets patted down?
---