TSA chief John Pistole speaks on latest airport security procedures
TSA chief John Pistole cites 'determined, resourceful enemy' in defending airport body screenings and pat downs that some passengers say are too intrusive. But no plans for body cavity searches.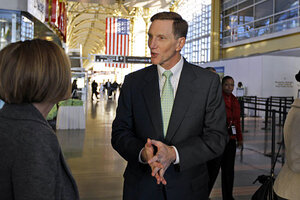 Alex Brandon/AP
Transportation Security Administration chief John Pistole became TSA administrator in July after a 26-year career at the Federal Bureau of Investigation, where he rose to become deputy director. He was the guest speaker at the Nov. 22 Monitor breakfast in Washington, D.C. For a video excerpt of Mr. Pistole's briefing, click here.
The challenge facing the TSA:
"The challenge that we are facing in TSA ... is how do we deal with a determined, resourceful enemy who has proven adept at the designing, concealing, and implementing of bombs that can kill not only hundreds of people on passenger aircraft but also [that target] cargo aircraft."
RELATED: List of 10 protections available to passengers at TSA checkpoints
The need for partnership with the traveling public:
"As we do things in partnership with the American people, we need to have that partnership intact. And given the concerns raised by many members of the traveling public [about screenings and pat downs] ... we need to find the best possible way of achieving both the layered security with the privacy."
---