New Mexico wildfires approach Los Alamos nuclear lab
New Mexico wildfires are near the boundaries of the 23,000-acre Los Alamos National Laboratory, which holds some low-level radioactive material in an above-ground storage facility about three miles from the flames.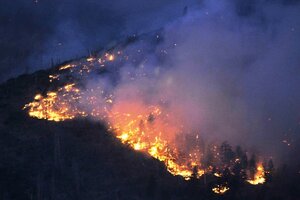 Eddie Moore / Albuquerque Journal / AP
Firefighters battling the 70,000-acre Las Conchas fire south and west of Los Alamos, N.M., may get modest help from the weather Wednesday night.
Humidity levels, currently hovering around 18 percent, are expected to rise somewhat Wednesday night, raising hopes that the fire's advance may slow slightly.
A slowdown would be welcome. The last intense fire the area experienced was in 2000 – a blaze that took two weeks to cover 48,000 acres. The Las Conchas fire hit the 48,000-acre mark in 30 hours.
So far, fire officials report that the blaze, well into its third day, has destroyed about a dozen homes in Los Alamos County. As of noon local time, officials said the fire had not yet reached the Los Alamos National Laboratory – a 23,000-acre complex that sprawls across several narrow mesas and canyons some 25 miles northwest of Santa Fe.
A one-acre spot fire broke out in a remote location along the lab's southern border on Monday, but was quickly doused.
The Las Conchas blaze, whose cause is still under investigation, is about 3 percent contained, according to Los Alamos fire chief Douglas Tucker.
Firefighters are focusing much of their attention on lines of burning forest that are closing in from the west and from the south.
---