Dow takes another dive: what is making investors worried
Obama, Bernanke, and Geithner meet as investors worry that political leaders – in the United States and Europe – and central banks can't do much more to support a weak economy.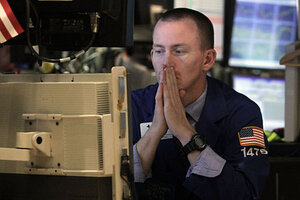 Richard Drew/AP
Global stock markets fell sharply on Wednesday as investors fretted about twin uncertainties: the economy and whether policymakers can do much to help it.
Key stock indexes in the United States, Germany, and France all fell by roughly 5 percent. The Dow Jones Industrial Average lost 520 points, closing at 10,719.94, more than offsetting a rebound on Tuesday as the Federal Reserve sought to show its commitment to supporting the economy.
Investment analysts point to multiple factors that may explain the downward trend of recent days, including simple fear and the influence of computer-driven "high frequency" trades by some investment firms.
But many say investors are focused especially on two big questions: First, how much has the outlook for economic growth deteriorated lately? And second, if a recession may be near, are central banks or governments able to give meaningful assistance to the economy?
---