Dow drops 1,147 points over three trading days. Is that a 'crash'?
The Dow has lost 9.13 percent of its value over three days of trading. It's bad, but investors have seen much worse in previous sell-offs. Still, 'crash' versus 'correction' is a matter of debate.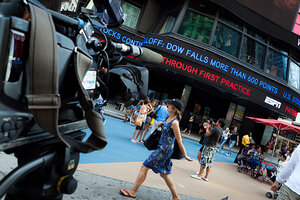 John Minchillo/AP
After Black Tuesday, Oct. 29, 1929, Variety declared "Wall Street lays an egg," to describe a drop of 23 percent in the stock market over two days. In the stock market "crash" of 1987, the Dow Jones Industrial Average lost 22.6 percent of its value in one day. On Monday, the Dow dropped 634.76 points to 10809.85. Does the sharp decline qualify as a "crash?"
To some market observers, the latest decline is merely a "correction," compared with what happened in 1929 and 1987. Despite the large drop – some 513 points last Thursday, as well – the Dow is down 9.13 percent over three days of trading.
"A stock market crash is in the range of 25 percent or more in one day," says Fred Dickson, chief investment strategist at D.A. Davidson & Co. in Lake Oswego, Ore. "We're down about 10 percent in 10 days."
Here are some of the worst market sell-offs:
Oct. 19, 1987, also called "Black Monday." Over the weekend before, Iran had fired missiles over the Persian Gulf, causing some nervous moments. But then, an article in The New York Times claimed that the US wanted a lower-valued dollar. This prompted foreign investors to start to dump stocks because they would be worth less money in dollar terms. The markets at the time did not have any circuit-breakers, which now stop trading after about a 10 percent decline in one day.
---