Obama tries to calm jittery investors
The Dow plunged 634 points Monday, even as Obama sought to assure the markets that the still-gaping deficit represents a failure of politics, not of the nation's credit-worthiness.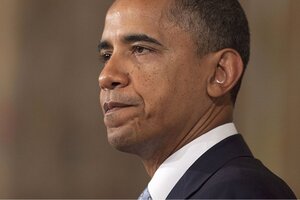 Evan Vucci / AP
As stocks tumbled, President Obama sought to inject a glimmer of hope into a gloomy financial picture Monday, asserting that "our problems are eminently solvable."
The president's remarks came after the historic downgrade Friday of the US credit rating by Standard & Poor's from AAA to AA+, sparking a sell-off by investors. By close of business, the Dow Jones Industrial Average had dropped 634.75 points, closing at 10,809.85 – below the 11,000 mark for the first time since October. Last week the Dow fell 5.8 percent, its biggest decline since 2008.
Mr. Obama spoke defiantly as he described a failure of politics, not the nation's credit-worthiness, for Washington's inability to set the nation on a sound fiscal path.
"It's not a lack of plans or policies that's the problem here," Obama said, speaking from the State Dining Room in the White House. "It's a lack of political will in Washington. It's the insistence on drawing lines in the sand, a refusal to put what's best for the country ahead of self-interest or party or ideology. And that's what we need to change."
"My hope," the president added, "is that Friday's news will give us a new sense of urgency."
One week ago, Democrats and Republicans reached agreement on a deficit reduction plan that allowed a boost in the US debt ceiling above $14.3 trillion. The deal averted a potential default on US debt, but was not large enough to prevent a lowered credit rating by S&P. Under the terms of the deal, a 12-member bipartisan House-Senate committee must come up with at least $1.2 trillion in addition deficit reduction by the end of the year.
---