Add S&P downgrade to a struggling economy, what do you get? Stocks in shock. [VIDEO]
Stocks plummeted Monday, in response to the S&P's decision Friday evening to downgrade the US debt rating from AAA to AA+.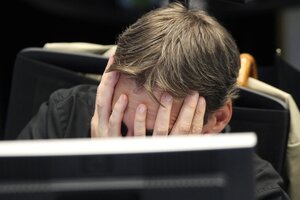 Michael Probst / AP / File
In the first trading session since Standard & Poor's lowered the debt rating of the United States from AAA to AA+, investors reacted badly, selling stocks in waves.
After noon, the widely watched Dow Jones Industrial Average had plunged 318 points to 11,125, as investors ran for cover. Other, broader market indices, including the Standard & Poor's and the NASDAQ, were sharply lower as well. As its lowest point so far on Monday, the Dow average was off as much as 350 points.
"Investors have a fragile psyche right now," says Fred Dickson, chief investment strategist at D.A. Davidson & Co. in Lake Oswego, Ore. "Sentiment is extreme on the negative side. Each piece of bad news is causing traders to dump stocks."
The selling is a continuation from last week, when the stock market lost about 7 percent of its value. The major averages are now down close to 13 percent from their recent highs. If the selling continues, the market will enter "a bear market" phase, which is loosely defined as a loss of about 20 percent.
---