'Flash mobs' vs. law and order: BART protest adds fresh twist
Social media 'flash mobs' are becoming integral to the organization of protests. BART officials shut down cellphone service to thwart a protest Thursday. What will BART do Monday?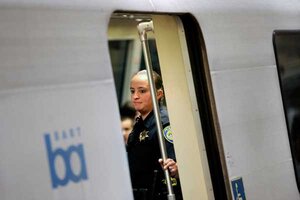 Noah Berger/AP
The faceoff between the group of hacker-activists known as Anonymous and the Bay Area Rapid Transit (BART) authority is a fresh parable in the mounting clash this summer between law enforcement and social media.
Already this summer, law-enforcement officials in cities from Washington to Las Vegas have struggled to rein in "flash robs" that involve mass robberies organized on Twitter or Facebook. Meanwhile in England, authorities are trying to unravel the role that social media played in fueling riots across the country.
Now, Anonymous has hacked into a BART website in retaliation for the transit agency cutting cellphone service Thursday to prevent protesters from using their smartphones to organize. And on Monday, Anonymous is calling for people to rally against BART – in person – in San Francisco at 5 p.m. Pacific time.
Together, these events point to a potential change in the way the disaffected express their displeasure with government, says Paul Levinson, a professor of communication at Fordham University in New York and author of "New New Media."
"The larger message of these assemblages of people, brought together through online invitations and publicized through Twitter and other new new media,… is that we may be witnessing a profound shift, even in democracies, from representative to direct forms of governance," he says.
---