Steve Jobs and Apple: How his vision transformed the way we work and play
Apple under Steve Jobs launched iconic toys and tools and software, so successful in form and function that competitors stood in awe and customers lined up overnight for the latest gadget.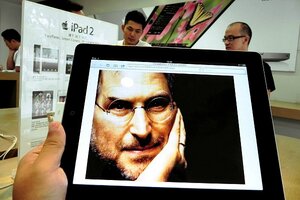 Newscom
Google "Steve Jobs" and "vision" and you get more than 43 million results.
Surprised, anybody? Apple's just-resigned CEO has been called the Henry Ford of his generation. Or a cross between Henry Ford and Willy Wonka, as one wag put it. He changed the way of work and play for millions of people, maybe billions.
He launched iToys and iTools and iSoftware, so successful in form and function that his competitors stood in awe and his customers lined up the night before for the latest Apple gadget. Need I mention that when the iPhone was launched it was dubbed the "Jesus phone?"
Now Mr. Jobs has relinquished his role as Apple CEO to company veteran Tim Cook. But he'll stay on as the company's board chairman. So depending on his health (apparently the main reason he stepped down), his vision and drive "to put a ding in the universe," as he once put it, are likely to continue.
Meanwhile, the morning-after blogosphere continues to ricochet with comments about Jobs's impact and the vision that drove the man and the technology he produced.
"Thanks to Steve Jobs, Apple has had a transformative impact on virtually every technology and service it has touched," writes Tony Bradley at PCWorld, who pointedly notes that he's not an "Apple fanboy" and "never owned an Apple computer."
---