Hurricane Irene update: Irene downgraded from hurricane to tropical storm
Hurricane Irene has now become tropical storm Irene with winds of 65 miles per hour. But officials still predict heavy rains and flooding as Irene works its way north to New England.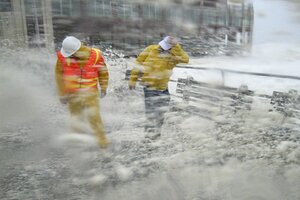 Chip East/Reuters
Irene has been downgraded from a Category 1 hurricane to a tropical storm with sustained winds of 65 miles per hour gusting to 75 mph.
But Irene's weakening is no reason for complacency, meteorologists and government officials say.
Major flooding is expected well inland across the Northeast, with several large rivers likely to remain above flood stage for days, predicts meteorologist Bill Deger at AccuWeather.com. Records could be approached on a few rivers, he says, rivaling those recorded during hurricane Floyd in 1999.
"Rainfall totals will continue to be excessive and impressive. Many areas from the mid-Atlantic into New England will get 3 to 6 inches of rain, with localized amounts above a foot," he writes. "While flooding along streets and in low-lying areas will be worse in the interim, river flooding will worsen in the hours and days after the rain stops falling. The Schuylkill River in southeastern Pennsylvania, the Passaic River in northern New Jersey and the Winooski River in northern New England are among the waterways that will likely experience major flooding."
---
Follow Stories Like This
Get the Monitor stories you care about delivered to your inbox.