US Postal Service seeks reprieve from Congress to avert 'default'
Congress must act by Sept. 30 or the US Postal Service, running out of funds, will default on a $5.5 billion payment for retiree health benefits, US Postmaster General Patrick Donahue said Tuesday.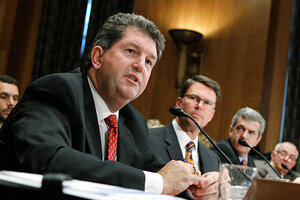 J. Scott Applewhite/AP
In a Senate hearing that once again rang an alarm bell on the dire straits the US Postal Service is in, US Postmaster General Patrick Donahoe said the institution is on "the brink of default." He also told Congress that without legislation by Sept. 30, the Postal Service would default on a mandated $5.5 billion retiree health benefit payment due this month.
Mr. Donahoe told Congress that unless lawmakers enact emergency measures, the Postal Service (USPS) could shut down entirely this winter and completely run out of money to pay salaries and contractors by August or September of next year.
"We are at a critical juncture," Donahoe said Tuesday afternoon in testimony prepared for a hearing before the Senate's Committee on Homeland Security and Governmental Affairs. "Action from Congress is sorely needed by the close of this fiscal year."
He urged Congress to approve measures that would loosen regulations by which the Postal Service must currently abide, and allow it to operate more like a business.
"The Postal Service requires radical changes to its business model if it is to remain viable in the future," Donahoe told Sen. Joseph Lieberman (I) of Connecticut, chairman of the committee. "The Postal Service is in a crisis today because it operates with a restrictive business model…. [Its survival rests on its] ability to operate more as a business does."
---
Follow Stories Like This
Get the Monitor stories you care about delivered to your inbox.