As Reno rethinks air races, possible cause of crash is seen
Investigators searching for the cause of Friday's crash at the Reno Air Races are focusing on a critical part that may have failed. Whatever the cause, the future of the popular air races is in question.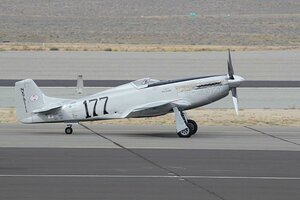 Ward Howes/AP
Although it will be months before official investigations are completed, one likely cause has emerged from initial data gathered about Friday's crash at the Reno Air Races.
Photos indicate a missing part from the control surface that maneuvers the nose of an aircraft up and down. That's the "trim tab," a critical part of the "elevator" on an aircraft's tail.
Witnesses said they saw a part fall from Jimmy Leeward's P-51 Mustang seconds before it pitched up then straight down into the spectator area, killing nine people and sending more than 50 to local hospitals.
A photo posted by KOLO-TV, the ABC affiliate in Reno, shows the trim tab dangling from the left elevator as the aircraft rolled inverted just before plunging to the ground. Another photo by Tim O'Brien of the Grass Valley Union shows the P-51 upside down with the trim tab missing.
"Without the trim tab, the aircraft may have been uncontrollable," writes Mike Danko on his Aviation Law Monitor blog.
At a press conference Saturday, National Transportation Safety Board spokesman Mark Rosekind said that a component had been recovered. Although the piece has yet to be identified, he said, "We are very clearly going to focus on that."
If that was the cause of the accident, then it wouldn't have been the first time at the Reno Air Races.
"There was an incident during the 1998 Reno Air Races in which a trim tab came off a P-51 named Voodoo Chile," writes Russ Niles, editor-in-chief of AvWeb. "In that incident … the aircraft pitched violently up, causing pilot Bob Hannah to black out under a G load estimated at 10 Gs. He regained consciousness at 9,000 feet and was able to land safely."
---