Why a watered-down UN resolution on Syria may still not pass
The UN Security Council vote could come as early as Tuesday afternoon. The US and European powers support the 'better than nothing' resolution, which contains only the threat of sanctions against Syria.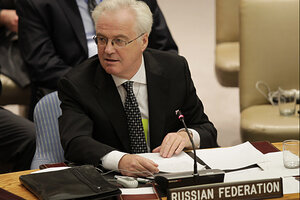 Seth Wenig/AP
The United Nations Security Council is poised to vote as early as Tuesday afternoon on a resolution condemning state-sponsored violence in Syria and threatening international measures – though including none at this time – if the deadly repression of civilians does not stop.
Passage of the resolution appears to depend on Russian confidence that the measure is not "regime change in disguise," which is how Russia views the Western powers' interpretation of a resolution on Libya earlier this year.
The United States and European powers, which have pressed for Security Council action for months, support the "better than nothing" resolution as a way of finally putting the international community on the record on Syria.
"Better to get the view of the Security Council on record ... rather than to wait for a perfect moment that might not come," says a senior Western diplomat, who requested anonymity to discuss a vote that has not yet taken place.
The resolution "is not perfect" because it lacks any teeth such as economic sanctions or other actions, the diplomat says. But it would still be "positive" for sending a clear message to the regime of Syrian President Bashar al-Assad.
---