Asian carp invasion: Can we fish our way out of the problem?
As urgency rises over need to halt the migration of invasive Asian carp into the Great Lakes, a new solution comes forward: Eat them. Asian carp could anchor a lucrative fishing industry, some officials and biologists suggest.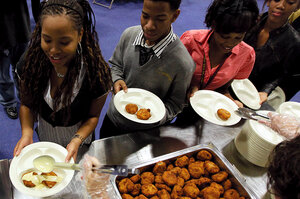 Nam Y. Huh/AP
Starved Rock State Park, Ill.
Last spring in Little Rock, Ark., officials of the Aquatic Nuisance Species Task Force dined on one of the biggest nuisances of them all: Asian carp.
"It was very good," says Ron Brooks, head of fisheries in Kentucky.
Carp native to China escaped from Southern fish hatcheries in the 1970s, where they were being cultivated to eat algae in fishponds. They've been spreading ever since. They are now found in much of the Mississippi River Basin, from Louisiana to Minnesota. In some places – such as the Illinois River downstream from Starved Rock State Park – 9 out of 10 fish are Asian carp.
Stopping them before they reach the Great Lakes is the aim of a national campaign involving a broad range of biologists, state and federal agencies, and even the White House. This year, the US Army Corps of Engineers turned on a third electric barrier in a shipping canal near Chicago to halt the carp's incursion. Officials are also trying to identify and block other potential links between the Mississippi and the Great Lakes, as they did last year by erecting a quarter-mile-long mesh fence in a marsh in northeastern Indiana. Meanwhile, researchers are hunting for chemical or genetic methods of disrupting carp reproduction.
Many people say there's a better way to control Asian carp: Eat them. Government officials, university researchers, and businesses are working to build a commercial fishing industry capable of harvesting enough Asian carp to reduce their numbers and stop their expansion.
"There's no other short-term method that we have that's likely to have any substantial effect on these populations," says Duane Chapman, a carp expert with the US Geological Survey in Columbia, Mo.
---