Could UC Davis pepper-spray fury bring down the chancellor?
UC Davis faculty and students are calling for Chancellor Linda Katehi to resign, saying she should have prevented police in riot gear from pepper-spraying peaceful UC Davis protesters.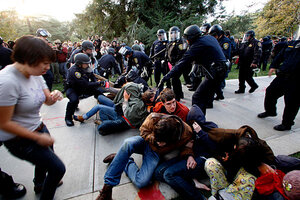 Wayne Tilcock/The Enterprise/AP
Faculty and students infuriated by this weekend's pepper-spraying incident at the University of California, Davis, are determined to force out the school's chancellor.
Police in riot gear used pepper spray and batons Friday to break up a peaceful protest, and a video of the incident has since gone viral on the Internet.
Critics of UC Davis Chancellor Linda Katehi say she should not have allowed police on campus, and they have scheduled a rally Monday. Ms. Katehi is fighting back, insisting Monday on ABC's "Good Morning America" that "the university needs me." Her office said she plans to attend the rally.
The controversy comes at a time when clashes between Occupy Wall Street protesters and law enforcement have been escalating. City mayors and federal and local law enforcement have struggled with how to deal with the Occupy movement. And among college administrators, "there is real fear that if these occupations became established ... they would not go away," says George Ciccariello-Maher, a political historian at Drexel University in Philadelphia.
For example, as California's higher-education systems have been raising fees and tuition, student protests have burgeoned over the past two years, he adds. "Now, police are upping the ante very quickly to prevent occupations from getting a foothold."
UC Davis English professor Nathan Brown has written an open letter calling for the chancellor to resign, which became a petition that has more than 50,000 signatures.
---