Black Friday violence: Competitive shopping's troubling new edge
Some Black Friday shoppers have been cutting in line, grabbing carts, coming to blows, and wielding pepper spray. What the Black Friday hunt for the perfect Christmas present says about the shopper within.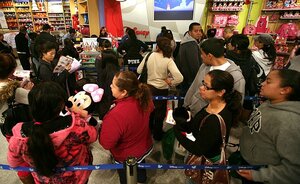 Newscom
Aisle-bumping, line-cutting, and parking lot rudeness is to be expected on Black Friday, the annual post-Thanksgiving shopping extravaganza. This year's event, however, saw more mayhem than usual as throngs of competitive shoppers tussled and growled over waffle irons and Xboxes, with altercations turning violent in at least seven states.
As in years past, stories of "competitive shopping" gone bad abounded, but with a new edge.
In Los Angeles, a woman pepper-sprayed at least 20 fellow shoppers to save some money on an Xbox console, paying up and getting out before cops arrived. In Ohio and Michigan, women "came out swinging" over discounted bath towels. The results were at times serious, with several shootings reported and one confrontation ending with a grandfather lying bloodied and unconscious.
RECOMMENDED: Top 6 weird Black Friday discounts
With economic growth still moribund and unemployment uncomfortably close to double digits, the growth in Black Friday mayhem hints at both desperation and hope on the part of corporations and consumers looking to bust out of the pseudo-recession and salvage Christmas. Stores pushing start times up to midnight for the first time helped to dial up the emotions and the stress, which inevitably find occasional outlets in shoving and screaming.
---