Federal board wants cellphone ban for drivers. What happens next?
The NTSB wants states to ban drivers from using cellphones – handheld or hands-free. But it can't impose any laws or restrictions. That's up to lawmakers, who may or may not agree.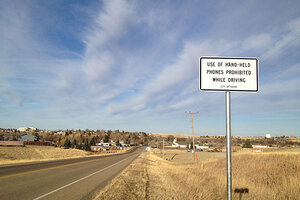 Zach White/Havre Daily News/AP/File
The federal agency charged with overseeing transportation safety recommended Tuesday that US states should forbid the use of all cellphones and other portable electronic devices by drivers.
The five-member, National Transportation Safety Board (NTSB) agreed unanimously to the recommendation as the number of accidents attributed to cellphone use rises. Perhaps the most dramatic was a fatal highway pileup in Missouri in 2010, in which a 19-year-old driver sent or received 11 texts in the 11 minutes before the crash.
"Driving was not his only priority," said NTSB Chairwoman Deborah Hersman. "No call, no text, no update is worth a human life."
The restrictions would exceed any existing state laws that limit drivers' cellphone use – for texting, web-surfing, or talking – because they would apply to both hands-free and handheld devices. The board has no power to impose restrictions, however, meaning that any new rules would have to come from states, Congress, or federal regulators. But the NTSB is seen as being very influential.
"This is an expert agency which is considered important and is trying to make transportation safer, so even though it can only recommend, it will be taken very seriously," says Carl Tobias, professor at the University of Richmond School of Law. "Following through devolves back on the states and what their legislatures are willing to do."
---
Follow Stories Like This
Get the Monitor stories you care about delivered to your inbox.