Bans on texting while driving don't reduce crashes, study says
Few dispute that texting while driving is risky. But the usual solution – laws banning behind-the-wheel texting – has not made a dent in the number of car crashes, according to new safety findings.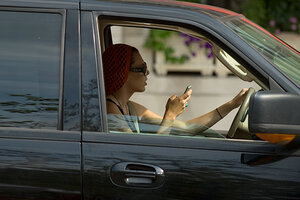 Ann Hermes/The Christian Science Monitor/File
State laws prohibiting texting while driving have not reduced car crashes, and in some places may have actually increased the number of accidents, says new safety research released Tuesday.
The findings, which have intensified the debate over how to combat the problem of distracted driving, come from the Highway Loss Data Institute and are scheduled to be presented at Tuesday's annual meeting of the Governors Highway Safety Association.
US Department of Transportation Secretary Ray LaHood called the study "misleading," and released a statement saying that his department's research showed that distracted driving laws could, in fact, reduce crashes.
Secretary LaHood has made the growing campaign against "distracted driving" – a category that can include everything from adjusting the car radio to talking on a cellphone – one of his pet causes. Last week, his department hosted the second annual Distracted Driving Summit, during which he praised states for implementing more laws against cellphone use behind the wheel, and called for increased regulations to combat what he termed an "epidemic" on America's roads. Thirty states plus Washington, D.C., now prohibit texting while driving.
While safety researchers agree that texting behind the wheel is dangerous, concern is growing that cellphone laws do not equal safer roads.
---