Green energy: Silicon Valley leads a back-to-basics revolution
Green energy has long aimed to overthrow fossil fuel's stranglehold on world power generation. But for now, Silicon Valley is taking green energy down a different path.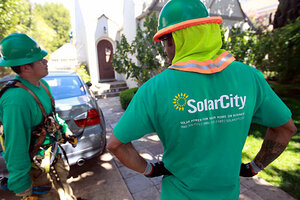 Tony Avelar/The Christian Science Monitor/File
Even before Solyndra became synonymous with the perils of the green-technology industry, the industry was changing.
Grand plans, like those of Solyndra to bring solar energy to firms nationwide, still ripple through Silicon Valley, but quietly. The current economic slump and Chinese competition have taken a toll.
Instead, a new vision for the future of the green economy is emerging – at least for the short term. Instead of transforming power grids, green companies are looking at more incremental advances, whether it's improving light-bulb efficiency or helping Wal-Mart make its supply chain more environmentally friendly.
But this more modest outlook is not a retreat, analysts say. Moreover, data suggest that the United States remains the world leader in private-sector investment in clean technology, with Silicon Valley leading the way.
"I think clean-tech industry is still a growing area for venture capital investments," says Mark Heesen, president of the National Venture Capital Association. "It is an area fraught with a lot of risks – no question about that – but there are also huge and significant game-changing technologies coming out of venture-backed clean-tech companies."
---