Winter solstice: time to celebrate brighter days ahead
Winter solstice occurred Thursday at 12:30 a.m., Eastern time. Throughout the Northern Hemisphere winter solstice celebrations help beat back winter's gloom and usher in longer days.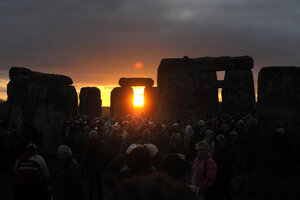 Tim Ireland/PA/Reuters
Happy first day of winter.
The biting, icy chill of the coldest season is officially upon us, and we have one thing to thank for it: the winter solstice.
The word "solstice" is Latin for "sun stands still," and the winter solstice happens when the northern half of Earth is tilted away from the sun by about 23 degrees – its most extreme angle of the year – to bring on the colder days of winter.
Officially the winter solstice occurred Thursday at 12:30 a.m., Eastern time, or 9:30 p.m., Pacific time on Wednesday for observers further west.
For those in the Northern Hemisphere, the winter solstice, also known as the December solstice, marks, after months of waning hours of daylight, the shortest day and longest night of the year, which always occurs around Dec. 21. In the Southern Hemisphere, this is the time of the summer solstice and the period where folks there experience the most daylight.
But just because it's the shortest (and darkest) day of the year doesn't make it the coldest one. Conditions for that won't come for another few weeks since oceans take longer to cool than the air temperature does, a phenomenon known as seasonal lag.
Indeed long winter weather conditions lie ahead for much of the Northern Hemisphere, but on the bright side, days gradually begin to lengthen the day after the winter solstice, leading up to the summer solstice in June.
---