Mormons like Mitt Romney more than Jon Huntsman but question his electability
A new survey shows a large discrepancy in how American Mormons view the two Mormon candidates for president, Mitt Romney and Jon Huntsman. But many doubt that America is ready to elect a Mormon president.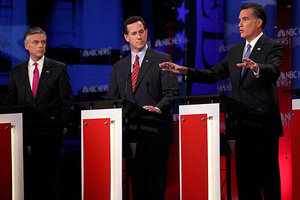 Shannon Stapleton/REUTERS
Americans who identify themselves as Mormons rate former Massachusetts Gov. Mitt Romney much more highly than they do former Utah Gov. Jon Huntsman Jr., a new survey finds.
Both Republican presidential candidates are members of The Church of Jesus Christ of Latter-day Saints (LDS), as the church is formally known.
While Mormons view Mr. Romney in a very positive light, only 56 percent think Americans are ready to elect someone of their faith as president. Three of five respondents said Americans know little or nothing about their church, and almost half (46 percent) said there is a lot of discrimination against members of their church.
These findings come from a new survey of Mormons by the Pew Research Center's Forum on Religion & Public Life. It is the first such survey ever conducted by a non-LDS research organization.
Among Mormons, there is a sharp difference in favorability ratings between Romney and Mr. Huntsman, according to the survey, conducted from Oct. 25 to Nov 16. Some 86 percent view Romney favorably, while only 10 percent view him unfavorably. By contrast, 50 percent have a favorable view of Huntsman, while 24 percent view him unfavorably.
---