Romney, others push back against 'Mormonism a cult' charge
(Read article summary)
Is Rick Perry having a Rev. Jeremiah Wright moment? He's having to distance himself from evangelical leader Robert Jeffress, who says that Mormonism – Mitt Romney's religion – is "a cult."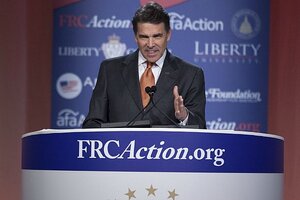 Evan Vucci/AP
Rick Perry seems to be having his Rev. Jeremiah Wright moment.
Pastor Wright was President Obama's minister until he had to be rebuked and rejected by then-candidate Obama during the 2008 presidential campaign.
For Perry, it's Dallas megachurch Baptist minister and prominent evangelical leader Robert Jeffress who's causing the stir.
At the Values Voter Summit in Washington Friday, the Rev. Jeffress – who introduced Perry to the conservative gathering and has endorsed the Texas governor – said Mitt Romney's Mormon religion was "a cult" and "not Christianity."
So far, Perry (through a campaign spokesman) has said he doesn't agree with that provocative characterization of the Church of Jesus Christ of Latter-day Saints. But he has yet to call out Jeffress personally or to reject the controversial minister's endorsement – a step that certainly would put him at odds with a key segment of the Republican base.
It took a while for him to do so, but when he did Obama made a firm and clear break with Wright, whose sermons critics found to be not only racially inflammatory but hateful of America.
---