Madonna half time show: What's a network to do when performers behave badly?
Lots of finger-pointing has ensued after a rapper during the Madonna half time show at the Super Bowl made an obscene gesture – before millions of TV viewers. Indecency during prime time is an issue already before the US Supreme Court.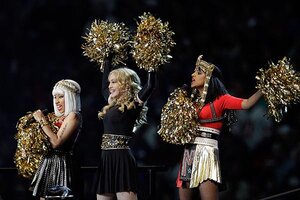 Michael Conroy/AP
What began as a flap over a flash of a middle finger during the halftime show at Sunday's Super Bowl has turned into a full-blown fracas over the future of the Federal Communications Commission, free-speech rights in an era of live events, and family-friendly programming in an age of nonregulated cable and Internet.
In the background is a flurry of finger-pointing on all sides.
It kicked off after British rapper M.I.A., performing during the Madonna-centric halftime extravaganza, flashed an obscene gesture and, apparently, issued a muffled obscenity during the live performance – which NBC's five-second-delay provision did not stop from being broadcast to the 111 million-strong TV audience (the largest for any program ever, according to Nielsen Fast National Data). Within an hour of the final play on the field, NBC issued an apology. In a statement, the network noted that the "NFL hired the talent and produced the halftime show. Our system was late to obscure the inappropriate gesture."
The NFL, in its own statement as reported on ESPN, noted a failure with NBC's delay system and chastised the performer, saying, "the obscene gesture in the performance was completely inappropriate, very disappointing, and we apologize to our fans."
The Parents Television Council, meanwhile, says both parties are to blame.
---