Nuclear power: NRC approves first new reactors since 1978
The NRC, America's nuclear power regulatory board, has given the go ahead to two new reactors in Georgia. Industry advocates call the decision 'historic,' but it had a prominent critic.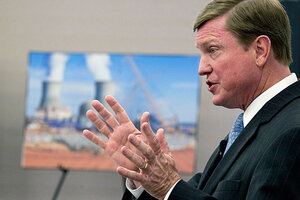 John Bazemore/AP
The federal board that regulates nuclear power in the US on Thursday voted to allow construction to proceed on the first new commercial nuclear power reactors in more than three decades.
The decision, which clears the way for two reactors at the Vogtle nuclear power site east of Atlanta, was immediately hailed as "historic" by business groups and nuclear-industry advocates. But it was condemned not only by nuclear-safety watchdog groups, but also by the chairman of the regulatory group itself.
"Ultimately, my responsibility is to make what I believe is the best decision for nuclear safety," said Gregory Jaczko, the chairman of the Nuclear Regulatory Commission (NRC) and the sole dissenting vote on the five-member panel, in a statement. "I simply cannot authorize issuance of these licenses without any binding obligation that these plants will have implemented the lessons learned from the Fukushima accident before they operate."
Following the Fukushima accident in Japan last March, an NRC special task force identified numerous safety improvements for US nuclear plants, but the commission has not acted yet to approve any of them.
To ensure that the new plants carried forward the lessons learned from that accident, Mr. Jaczko had proposed that new licensees' plants meet all post-Fukushima standards the NRC approves. The four other commissioners disagreed and overruled him, arguing that the NRC has enough tools to change standards as needed without needing to write them into licenses.
"We find ourselves in disagreement with the specific approach he offers in his dissent – namely, an across-the-board license condition requiring implementation of 'all' Fukushima-related requirements prior to operation of the Vogtle plant," the four commissioners wrote. "Such a license condition, in our view, cannot now be framed in meaningful terms."
---