US Capitol suicide bomb plot foiled: How to catch a 'lone wolf'
The arrest of Amine El Khalifi, a Moroccan man suspected of plotting to blow himself up inside the US Capitol, shows how law enforcement has fine-tuned techniques to stop lone wolf terrorists.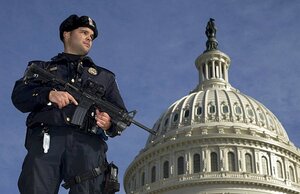 Manuel Balce Ceneta/AP
Long a mainstay of the drug war, undercover agents have found a new calling in netting so-called "lone wolf" terrorists, including playing a major role in the case of Amine Al Khalifi, the Moroccan man arrested on Friday after he allegedly set into motion a plot to blow himself up inside the US Capitol in hopes of killing at least 30 people.
The arrest was the latest in a long string of foiled plots with undercover agents at the heart of investigations. Not thought to be affiliated with Al Qaeda, Mr. El Khalifi worked with what he thought was an Al Qaeda associate to take possession of a weapon and a suicide bomb vest – both of which turned out to be fakes provided by an undercover agent who had gained the man's confidence.
According to security experts, the US law enforcement approach is to identify potential lone wolf plotters, usually through tip-offs or online activity, and then deploy squads of covert agents to glean details of the plot. If the suspected terrorist is seen to be seriously planning an attack, agents will scheme to assist in the attack to create a record that can be later used in court.
The tactic has proven highly effective, playing a role in almost all of the 36 homegrown terror plots authorities have unraveled in the last three years. Since 2009, according to one senior US terrorism official quoted by CNN, all terrorist plots in the West have been the work of lone individuals, sparking President Obama last August to call such threats "the most likely scenario that we have to guard against right now."
---