Nine dead as tornadoes rip from Branson, Missouri, up to Illinois
A storm system produced at least 16 twisters from Kansas to Branson, Missouri, to Illinois overnight Tuesday and into Wednesday, part of an active 2012 tornado season. Kentucky remains under a tornado watch.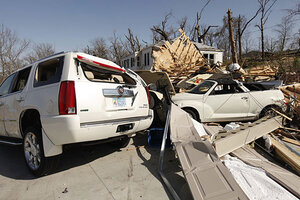 Mark Schiefelbein/AP
With parts of Branson, Mo.'s, historic downtown in tatters from a tornado and at least six dead in Illinois, Americans in "hurricane alley" and beyond are wondering whether early signs of a stormy spring could lead to the same kind of devastation that leveled parts of the Midwest and South in 2011.
Patterns of unseasonably warm weather grinding against late-winter cold blasts have already led to more than 100 tornadoes across the US this year alone, with 16 sighted late Tuesday into early Wednesday across a wide swath of the country spanning from Illinois to Kansas. The system was moving across Kentucky early Wednesday afternoon, with one potential twister reported near Louisville.
So far, at least nine fatalities have been reported from the tornado outbreak in Missouri and Illinois, with historic buildings in the country music mecca of Branson, Mo., being particularly hard-hit as one twister hopped through the middle of town. Six people were killed and hundreds injured in Harrisburg, Ill., where as many as 200 homes were damaged or destroyed and where winds flipped 18-wheelers and brought down trees. The town of Harveyville, Kan., saw damage to 40 percent of its homes and buildings, and Gov. Sam Brownback issued a state of emergency.
---