Tornadoes sweep across Alabama, Tennessee, Ohio and Indiana
A dozen tornadoes have been spotted across the South and Midwest. Tornado warnings are up until 10 p.m. Friday night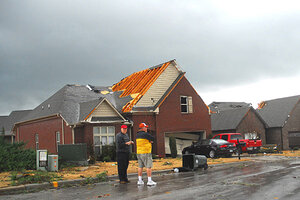 (AP Photo/The News Courier, Kelly Kazek)
At least a dozen tornadoes have been reported cutting through the nation's midsection. Apparent tornadoes destroyed houses, sent people to hospitals and tore up the roof of a maximum security prison in northern Alabama as bad weather threatened more twisters across the region Friday, two days after storms killed 13 people in the Midwest and South.
There are reports that Clark County Indiana was hit by a large tornado, and that the high school in Henryville, Ind., was struck. The school was closed. There are no reports yet on the scale of damage or injuries in Clark County.
The National Weather Service has issued severe weather and tornado warnings from Georgia to southern Ohio across a wide swath where forecasters said strong storms are sweeping across the nation's mid-section. Thousands of schoolchildren in several states were sent home as a precaution. Meanwhile, residents in parts of Illinois hit hard by the twisters earlier in the week were salvaging what they could from splintered homes.
RECOMMENDED: How to survive a tornado
Tornado warnings are currently up for counties in northeast Georgia, South Carolina, and parts of Indiana and Ohio.
---