A preemptive attack on Iran? US Jews are deeply divided.
The AIPAC conference in Washington elicited one hawkish pronouncement after another from US leaders. But American Jews are deeply split over how to deal with Iran's nuclear aspirations.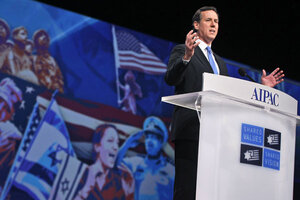 Charles Dharapak/AP
Americans watching President Obama and the Republican presidential candidates address the American Israel Public Affairs Committee might be surprised to learn that American Jews hold widely divergent views on the issue of Iran and its possible development of a nuclear bomb.
In fact, the American Jewish community is deeply split over the difficult policy challenge of confronting Iran's nuclear program, with "hawks" and "doves" in the community engaged in heated, and at times acrimonious, exchanges.
On Wednesday, for example, in The New York Times, a full-page ad taken out by the liberal magazine Tikkun, the Network of Spiritual Progressives, and The Shalom Center was headlined in part: "No War on Iran and No First Strike."
"We want to speak directly to the public as well as Congress and the president," says Rabbi Arthur Waskow, leader of The Shalom Center in Philadelphia, in an interview. "We think there is a deep opposition to going to war; this is totally crazy this whole policy of a preemptive strike."
The long-brewing crisis over Iran's nuclear program seemed to become even more urgent over the weekend, as Republican presidential candidates addressed AIPAC's annual policy conference, with each one trying to sound more hawkish. Former Sen. Rick Santorum declared, for example, "If Iran doesn't get rid of nuclear facilities, we will tear them down ourselves."
---