With all this natural gas, who needs oil?
It's home-grown, plentiful, and touted as the best way to wean the US off Mideast oil. But there are limits to how far the US can tilt toward a natural gas economy.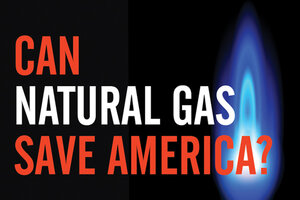 John Kehe/Staff
Bob Mann leans against his wife's 2006 Volkswagen Jetta in his tool-packed garage. The mechanic and inventor has just converted the car, which is the color of a ripe crab apple, to run on natural gas. He shakes his head.
"It's a no-brainer. We could jump-start the economy overnight, put 100,000 people to work – easy – and help the environment," says Mr. Mann, a former Volkswagen technician who's as comfortable talking about global energy solutions as he is around a socket wrench.
From his suburban home in a wooded neighborhood once known for its shipbuilding prowess, Mann is crafting automotive gadgets for a future that many believe could help solve the nation's long-intractable energy woes – one fueled mostly by natural gas. During the past five years, Mann has converted more than 10 cars to run on compressed natural gas, in addition to gasoline, using a device he invented, the "CNG Fogger," which boosts the vehicles' mileage. Commuters in the Boston area have snapped up his cars from Craigs­list as have CNG enthusiasts as far away as Wisconsin. Mann has also built a CNG race car and wants to design another to compete in the Indianapolis 500.
His big dream, though, is to create an affordable CNG home fueling station so that anyone who has access to a natural gas line for cooking or heating can also fill up a car, just as he and his wife do. Instead of paying $4 a gallon at the pump, it costs them 60 cents for the equivalent amount of natural gas.
---