In heartland of legal marijuana movement, doubts linger, poll suggests
A poll of California voters found that a majority do not want legal marijuana – mirroring the result of Proposition 19 in 2010. Advocates had hoped that views were changing.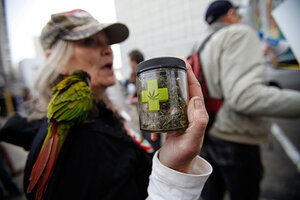 Stephen Lam/Reuters/File
A new poll in the heart of the nationwide pro-marijuana movement finds that attitudes have not changed appreciably since California voters defeated a citizen's initiative to legalize pot in 2010.
The University of Southern California Dornsife/Los Angeles Times poll found 46 percent of California voters in favor of "general or recreational use by adults" and 50 percent against. In 2010, Proposition 19 – which would have made California the first state to allow marijuana for casual use – failed with 54 percent against and 46 percent in favor.
Pro-marijuana activists had hoped that those numbers might have shifted during the past two years. A recent national poll by Rasmussen Reports found that 56 percent of respondents favored legalizing marijuana and regulating it like alcohol and tobacco cigarettes are regulated; 36 percent were opposed.
The USC poll appears to dash those hopes, though pro-marijuana activists say the numbers reflect fear of marijuana without regulation or rules.
"The word, 'legalization' implies a lack of rules, and nowhere in the California poll question is any mention of, or comparison to, a regulatory system," says Morgan Fox, spokesman for the Marijuana Policy Project, via e-mail.
---