Synthetic marijuana on the rise: looks like pot, but 'far worse'
Synthetic marijuana is marketed as a cheap way to get a legal marijuana-like high. But health experts say it is 'way more' than marijuana and is 'very dangerous.'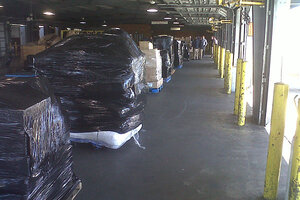 Alabama Alcoholic Beverage Control Board/AP/File
Antidrug activists are concerned by the rising use of manmade drugs known as synthetic marijuana, which purport to be a legal way to a herbal high but are actually dangerous chemical concoctions that are banned in many states.
The drugs, often sold in gas station and convenience stories under names like "K-2" and "Spice," are known to cause bouts of paranoia and agitation, as well as psychosis. Some teens have coined the term "couch lock" to describe one effect – an inability to move despite being conscious.
"This is nasty, evil, and very scary stuff," says Nancy Knott, a drug counselor with Scripps Alcohol and Treatment Center in La Jolla, Calif. She relates a recent episode in which one teen considered himself to be Christ Jesus and could not be dissuaded.
The Centers for Disease Control and Prevention say that 1 in 9 high school seniors has tried the drugs. Calls to poison centers about the drugs rose from 2,900 in 2010 to 7,000 in 2011 and hit 1,200 in the first two months of 2012.
Makers produce chemicals synthetically and then spray them onto dry herbs and plants, hoping to mimic the appearance of marijuana. The chemicals are three to five times more potent than the THC found in marijuana, "leading to symptoms including loss of consciousness, paranoia, and occasionally, psychotic episodes," says Tod Burke, a professor of criminal justice at Radford University in Virginia.
As of March 2011, 20 states had imposed bans and additional legislation is pending in 37 states, Professor Burke says.
Synthetic marijuana makers have tried to stay ahead of law enforcement by constantly altering their products chemically, replacing banned substances with new ones that have similar properties. This has lured workers searching for ways to get high but also pass drug tests, as well as teens seeking the latest "new high."
"It's easy for entrepreneurs in US labs or overseas to manipulate the molecular structure and come back with another product promising the same kinds of highs," says Grant Smith of Drug Policy Alliance.
---