Setback for legal marijuana? Pot raid rattles top cannabis crusader.
A federal raid on the marijuana businesses of Richard Lee has convinced the legal-marijuana leader to take a step back. It could mark an important moment for the movement.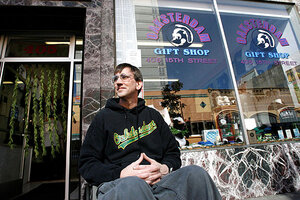 Dino Vournas/AP/File
Richard Lee, one of the highest profile marijuana activists in America, has announced he plans to give up ownership of his marijuana businesses in Oakland, Calif.
The man who opened Oaksterdam University, the nation's first college to teach students about the cannabis industry, and who bankrolled a failed ballot initiative to legalize the adult use of marijuana, says a federal raid this week has convinced him it's time to step aside. The raid seized his assets, plants, bank accounts, records, and computers.
His decision marks an important moment for the medical-marijuana industry. While Mr. Lee says he will continue to be an outspoken advocate of marijuana, his step back threatens to create a void in the leadership of the movement. Moreover, the federal raid that hit his operations Monday is a sign that the Drug Enforcement Administration is ramping up its crackdown on California's medical-marijuana dispensaries.
"This is a clear statement to California that the DEA is becoming more aggressive in this area, despite California's Compassionate Use Act" – the state's first-in-the-nation ballot initiative that legalized medical marijuana in 1996, says Joan Smyth of Kaufman Dolowich Voluck & Gonzo, a national law firm, via e-mail.
In the past, the DEA has assisted local authorities in shutting down individual dispensaries based on zoning laws. But in Oakland, where the medical-marijuana zoning laws "are virtually nonexistent, and there have not been local efforts to shut the dispensaries down," Ms. Smyth says, the DEA is now taking the lead.
---