California dreaming? Under $4-a-gallon gas could rev up state economy.
It may be hard to believe, and it was a long time coming, but gas in California fell below $4 a gallon after three weeks of steep declines. Good news for the economy at last.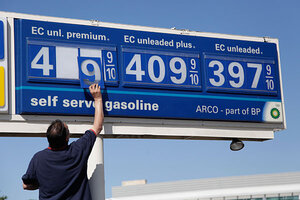 Paul Sakuma/AP
The average price of a gallon of gas has fallen below the $4-mark in California thanks to a 12.7-cent drop from the previous week, the third double-digit decline in as many weeks, the AAA Fuel Gauge Report says.
According to the report, a gallon of gas in California cost $3.99 Monday, marking the first time since mid-February the state has seen a below-$4-per-gallon average.
It is a bright spot for many in a state that seems to be getting nothing but bad economic news recently.
"This is good news for consumers and good news for the state," says H.D. Palmer, chief spokesman for the California State Department of Finance. "This means more money in the pockets of consumers, more money spent on clothing and other retail items, which means more sales taxes for the state."
The lower gas prices also bring the state added revenue in other ways. California does not have sales tax on gasoline, but has an excise tax that is measured in the number of gallons sold, points out Mr. Palmer.
"This means that the more gas people buy because it's cheaper, the more that excise tax will bring in," he says. Of course, higher prices usually dampen the volume of purchases, he adds.
Palmer is quick to point out that any boon to state coffers generated by consumer spending won't necessarily translate immediately into restored jobs for teachers or other public employees. "This will fill pocketbooks and gas tanks," he says, but adds that how and where it will impact state expenditures is less direct.
For many consumers, however, the impact is immediate.
"Now I can breathe easy again," says Carlos, of Carlos and Pepe Painting, as he fills his pickup truck with regular gas at $3.89 at the corner ARCO in Sherman Oaks. He says his business depends on jobs all over Southern California, and when gas prices climbed well over $4 for a month, he was having a hard time making ends meet.
---