Obama invokes executive privilege to protect Eric Holder: Can he do that?
Just minutes before Congress began preparing a contempt vote against Eric Holder, Obama raised the stakes in the long-running conflict over the botched 'Fast and Furious' gun-walking affair by claiming executive privilege to keep tens of thousands of e-mails secret.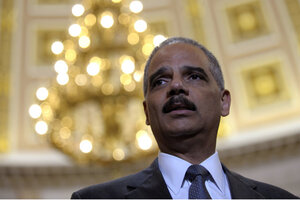 Susan Walsh/AP
The standoff between President Obama and the Republican-led House of Representatives moved into uncharted territory Wednesday when Mr. Obama claimed executive privilege for the first time in his presidency to block a House investigation into a botched federal gun-running sting called "Fast and Furious."
Under Fast and Furious, some 2,000 weapons were allowed by the United States to be "walked" by straw buyers into the hands of Mexican drug cartels. Whether the operation was the result of rogue ATF agents or approved by the executive branch is what an 18-month investigation spearheaded by Rep. Darrel Issa (R) of California claims it has so far been unable to verify.
A separate inspector general investigation ordered by the president has yet to yield a summary of how the operation came to be approved and put into effect.
Painted by Democrats as a political witch hunt, the 18-month probe, Republicans say, was undertaken primarily on behalf of slain border patrol agent Brian Terry, who was killed in December 2010 by drug runners who were carrying two Fast and Furious rifles. At stake are some 80,000 documents that the Department of Justice does not want to release, saying they include privileged information, a decision that sparked Wednesday's contempt hearing by the House Oversight Committee and the president's decision to freeze the documents.
---