Tanker crash shows US firefighting fleet badly needs overhaul, critics say
Grounded for a day after a deadly crash in South Dakota, firefighting C-130 tankers have taken to the skies again. The questions remain about whether the Forest Service has enough air power.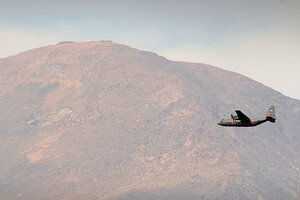 Mark Reis/The Colorado Springs Gazette/AP
The crash of a firefighting air tanker in the Black Hills of South Dakota on Sunday and the subsequent grounding nearly half of the planes currently fighting fires in the US has sharpened longstanding questions about whether the US has the air power necessary to fight wildfires.
On Tuesday, the grounded Air Force C-130s began rotating back into service to fight some 50 active fires in the West. The fires have spread at alarming rates, putting the focus on air tankers to cool down the leading edges of the fires.
All sides agree that the nine planes contracted to the US Forest Service this year – together with seven Air Force C-130s called on this summer – are too few for the mounting threat of wildland fires from rising temperatures and the spread of cities into rural landscapes. A decade ago, the Forest Service had 43 planes on contract.
The Forest Service has forwarded a plan to Congress for as many as 28 new planes, but this fire season – with fierce fires and three plane crashes so far – has exposed the need for far greater urgency and vision from Washington, critics say.
"We've seen this thing coming for the last 20 years: Eight of our planes were bought during the Korean War for maritime patrol, not flying low and slow over mountainous terrain and diving into smoky canyons," says Bill Gabbert, a veteran wildland firefighter who now blogs at Wildfire Today, in a phone call from a "somber" fire scene near where the National Guard C-130 crashed Sunday. "The fact is, the Forest Service has done virtually nothing to rebuild the fleet."
---