City slugfest: L.A.'s 'Subway to the Sea' runs aground in Beverly Hills
Citing safety concerns but eliciting charges of hysteria, wealthy Beverly Hills reportedly has spent $2 million to block plans for a subway that would pass underneath its high school.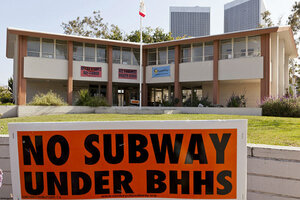 AP Photo/Damian Dovarganes
Los Angeles, America's city of cars, is experiencing a roadblock over a subway line.
A key section of the subway – known originally by its romantic marketing term, "Subway to the Sea," but now by the more mundane "West Side subway extension" or "Purple Line" because it never really reaches the ocean – is being held up with a lawsuit by Beverly Hills.
Because the track is slated to pass 70 ft. beneath the 1927-built, Beverly Hills High School – which itself was built on active oilfields – the tony zip-code is spending millions to fight the project for reasons, it says, of safety.
"Methane gas, toxic chemicals and teenagers don't mix," says the opening line of a PTA-produced video, which blends computer-generated images of exploding fireballs with newsreel footage of an actual methane fire that ignited nearby in 1985 and burned two city blocks for five days.
"But this dangerous combination is on the verge of exploding at Beverly High, turning the school into a mega-disaster."
The city of Beverly Hills, which reportedly has spent $2 million in legal and public relations fees, filed suit last month to force the Los Angeles County Metropolitan Transportation Authority (MTA) to reroute the link 1,000 ft. away, eliminating the need for a tunnel.
The MTA says it has ruled out the alternative route because it would attract fewer riders and is dangerously close to an active earthquake fault, and subway backers are denouncing the Beverly Hills campaign.
---