College rampage threat 5 days after the Colorado shooting leads to arrest
Five days after the Colorado shooting, a Kent State sophomore allegedly 'tweeted' profanities and threats at university president, threatening to 'shoot up' the school.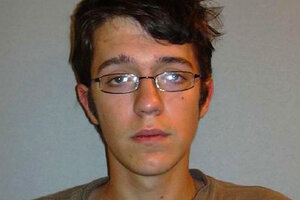 Kent State University Police/AP
A sophomore at Ohio's Kent State University pleaded not guilty Monday to charges that he threatened the school's president, allegedly saying in a posting to the microblog service Twitter that "I'm shooting up your school ASAP."
William Koberna's alleged threat on July 25 came just days after a graduate student methodically shot and killed a dozen people at a Colorado movie theater, stunning the nation and rekindling the fiery debate over gun control in the US.
It was unclear what sparked Mr. Koberna's threat but it highlighted the complexities related to the First Amendment and its expression through in the exploding social media universe of Twitter, Facebook, Tumblr, and other sites.
Police arrested Koberna, 19, at his parents' suburban Cleveland home on Sunday after university contacted police about his profanity-laced Twitter postings directed at university President Lester Lefton and the phrase "I'm shooting up your school ASAP."
---