Resignation of New Yorker writer revives questions about media ethics
The resignation of New Yorker magazine staff writer Jonah Lehrer again raises concerns about the credibility of journalists. Smaller newsroom budgets and demand for quick stories may be partly to blame, say media analysts.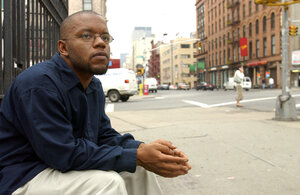 Mayita Mendez/AP Photo/Newsday
Declining circulation, shrinking news holes, newsroom layoffs: It's not the best of times for the journalism profession. Now add to those woes yet another ethics scandal involving fabricated quotations undermining the credibility of the news industry.
The newest outrage to hit the Fourth Estate comes from an acclaimed reporter and a staff writer at one of the most august publications in the US: The New Yorker magazine. The writer, Jonah Lehrer, admitted that he had made up quotations attributed to Bob Dylan in a book and though the fabrications did not appear in the magazine, the New Yorker's editor still accepted Mr. Lehrer's resignation Monday, calling the situation "terrifically sad."
With the memory of other notable plagiarists and fabulists at US newspapers and even radio still fresh, the scandal surrounding Lehrer does nothing to enhance the credibility of news media and prompts the question: What's going on and why?
In 2011, the Pew Research Center for People and the Press reported that 66 percent of Americans believe news stories are often inaccurate. Media analysts say inaccurate reporting, and the temptation to make up material, may stem from smaller news staffs, budget cuts, new story forms, competitive newsrooms, and the desire to produce stories quickly for various platforms. Still, they caution that there is no quantitative measure that could show whether incidences of plagiarism or fabrication have increased.
---